Voice of a Prophet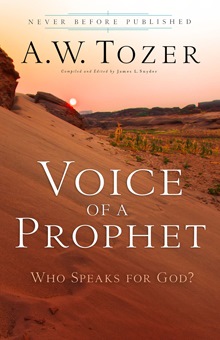 Available for: iPad, iPhone, Android, Mac, Windows Desktop and Windows Store.
Voice of a Prophet
Publisher: Gospel Light - Regal Books
Publisher: Gospel Light - Regal Books
The Prophet always speaks for God.
During his ministry, which included extended pastorates in Chicago and Toronto, A. W. Tozer was often referred to as a prophet. That doesn't mean he predicted future events, but rather spoke God's truth to believers and the culture, even if it meant disrupting the status quo. Even in the Bible, prophets were much more likely to hold God's people and their leaders accountable to the truth of God's Word than they were to foretell the future. The encouragement in Voice of a Prophet is that the church today is in desperate need of the kind of prophet Tozer embodied and describes in this important new book. Using the lives of such prophets as Elijah, Elisha and John the Baptist, Tozer underscores the importance of the ministry of the prophet in today's church.
This is the 11th title in a series of best selling trade books compiled and edited by James Snyder, today's leading authority on the life and writings of A.W. Tozer and includes never-before-published content based on the teachings of Tozer.
ISBN: 9780830770274